Visible Value? ENGOs and the UNFCCC Process
Since the 1980s, non-governmental organisations (NGOs) have been increasingly visible on environmental issues. However, increased NGO participation does not necessarily enhance the effectiveness, or the democratic character, of international cooperation, as seen in the failure of the 15th Conference of the Parties (COP15) in Copenhagen. This NTS Insight examines the effectiveness of environmental NGOs (ENGOs), by comparing their roles in the lead-up to two significant milestones in climate change negotiations – the 1997 Kyoto Protocol agreement and a post-Kyoto Protocol framework in 2012. It suggests that ENGOs have been more effective in influencing processes within climate negotiations rather than actual outcomes (policy formulations). It also highlights the challenges facing ENGOs – the structural challenges and the varying degrees of internal weaknesses – and suggests ways forward.
By Sofiah Jamil and Devin Maeztri.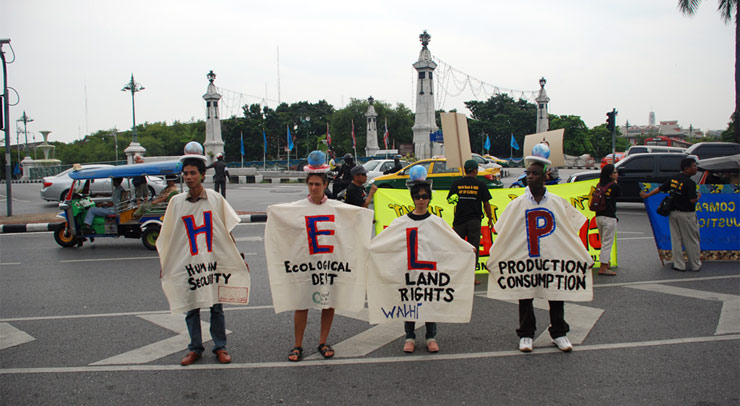 ENGO representatives expressing their climate change concerns during the UNFCCC meeting in Bangkok, September 2009.
Credit: UN Climate Talks/Flickr
Introduction
Never doubt that a small group of thoughtful, committed citizens can change the world.
Indeed, it is the only thing that ever has.
Margaret Mead, US anthropologist (1901–1978)
The sentiments embedded in this famous Margaret Mead quote have inspired generations of NGOs to champion civil society concerns which often receive scant attention from government bodies. Environmental issues, for instance, have historically often been relegated to the periphery of policy agendas. However, the past three decades have seen increased NGO visibility on environmental issues, with heightened profiles stemming from an expansion in their roles and activities, particularly in the area of climate change. For example, NGO participation in the United Nations Framework Convention on Climate Change (UNFCCC) meetings has incrementally grown with each successive Conference of the Parties (COP) (Carpenter, 2001:319). However, increased NGO participation does not necessarily enhance the effectiveness, or the democratic character, of international cooperation (Raustiala, 1997:720). This was evident during the 2009 COP meeting in Copenhagen where the efforts of the 'committed citizens' that Mead speaks of did not result in the expected change – particularly in influencing climate negotiations, and in formulating a 'fair and binding agreement' to follow the Kyoto Protocol which expires in 2012.
In light of these developments, this NTS Insight argues that environmental NGOs (ENGOs) are more effective in influencing the processes rather than the outcomes (i.e., policy formulations) of climate change negotiations. By comparing the processes in the lead-up to the formulation of the Kyoto Protocol in 1997 with current efforts towards a post-Kyoto Protocol framework in 2012, this NTS Insight will demonstrate that ENGO influence has increased over time. It goes on to show that despite the increasing visibility and influence of ENGOs, they do nevertheless still face various structural challenges.
How Do ENGOs Influence Climate Change Negotiations?
It is first important to define ENGOs. According to Arts (2004:500), an (E)NGO is a non-state, not-for-profit and non-violent group of people, which acts on public interests with regard to environmental issues and works to influence policy outcomes. ENGOs thus contribute to the building of an epistemic community, which is essentially 'a network of professionals with recognized expertise and competence in a particular domain and an authoritative claim to policy-relevant knowledge within that domain or issue-area' (Haas, 1992:3). Gough and Shackley (2001:332) outline three main groups of ENGOs. These are: (1) campaign/advocacy groups (which generally have a high profile); (2) research-based organisations or think tanks; and (3) business alliances. Though traditionally fairly distinct in their audience base and methods of addressing environmental problems, they all nevertheless play a part in addressing climate change.
In terms of the role of ENGOs in influencing climate change negotiations, the literature on ENGOs indicates three main approaches: (1) enhancing multi-stakeholder participation; (2) framing the issues to be considered on the policy agenda; and (3) ensuring accountability. These three approaches – which often converge with and complement one another – serve to influence the processes within climate negotiations.
ENGOs act as 'transmission belts', disseminating information and framing issues for various stakeholders in order to enhance multi-stakeholder participation (Breitmeier and Rittberger, 2000:144). This is achieved via translating the language of scientific reports into a language that is more digestible for public consumption, as well as providing a voice for smaller states and marginalised communities whose concerns would normally be ignored by major players in climate negotiations. Research-based organisations and think tanks play a significant role in generating knowledge for transmission. Hard-science-based research organisations provide technical knowledge on climate change and its implications for the planet, while social-science-oriented ones enhance the discussion by highlighting the socio-political dynamics of climate change, such as the interests of minority or marginalised communities adversely affected by environmental degradation and socioeconomic inequalities.
Yvo de Boer, executive secretary of the UNFCCC from 2006 to 2010, with environmental campaigners on the sidelines of the COP15 in Copenhagen, 2009.
Credit: UN Climate Talks/Flickr
Drawing on the work of research-based organisations, advocacy-type ENGOs channel these issues to policymakers and the wider public through various means. Their activities include organising public demonstrations, engaging the media, initiating dialogue with various stakeholders and lobbying policymakers to incorporate certain issues at the negotiation table (Corell and Betsill, 2001:88). ENGOs may also participate in certain stages of the climate change negotiation process as observers (Falkner, 2003; Fisher and Green, 2004). Some ENGOs have even participated as representatives in national delegations to climate talks. WWF, for instance, has been providing information, including technical and legal expertise, to the Alliance of Small Island States (AOSIS) to bolster the position of the group's constituents at international climate negotiations (Gulbrandsen and Andresen, 2004:60). Their participation as observers at COP meetings enables them to promote accountability and transparency, by serving as a form of check and balance on the various actors that are the primary contributors to the anthropogenic causes of climate change. Accountability efforts can be carried out outside of the formal negotiations, such as through advocacy for environmental justice for marginalised communities most affected by climate change. Such advocacy includes, among other things, monitoring the effect of national policies on indigenous forest communities or island communities.
ENGOs can also increase accountability by spearheading collaborative initiatives among various stakeholders. This is seen in the growing number of hybrid modes of governance that cut across the state-market-community divisions to facilitate co-management relationships and public-private and social-private partnerships (Arts, 2004; Lemos and Agrawal, 2006). Examples of these multi-sectoral partnerships include ENGOs helping businesses in various ways to meet environmental standards and monitoring their compliance with certain accepted regulations (Falkner, 2003:79–80). The Forest Stewardship Council (FSC), launched by WWF, demonstrates one instance in which such partnerships have proven successful. By setting standards in the forestry industry, the FSC is able to influence business sectors, encouraging them to adopt environmentally responsible practices (Betsill and Corell, 2001:67). Collaboration is also seen in ENGO efforts to ensure state compliance with international agreements. An example of this is the United Nations Environment Programme's Global Environment Monitoring System, whose work relies on ENGO research studies on the effectiveness of policy implementation (Breitmeier and Rittberger, 2000:139). As such, rather than just influencing the processes prior to the outcomes of negotiations – i.e., policy formulations – ENGOs also play a significant role in ensuring effective policy implementation.
ENGOs: Then and Now
Based on the three main approaches to influencing the processes before and after the formulation of climate change policies (which were discussed in the previous section), the following will demonstrate how ENGO influence on these processes has increased over the years, by comparing two periods: (1) the 'pre-KP' period, covering deliberations leading up to the establishment of the Kyoto Protocol during the COP3 in 1997; and (2) the 'pre-2012' period, spanning the deliberations to formulate a post-Kyoto Protocol framework, including efforts during the COP15 in Copenhagen in 2009.
The comparison between the pre-KP and the pre-2012 periods will be based on the three main indicators of ENGO effectiveness outlined by Betsill and Corell (2001:68): (1) ENGO's access to negotiations; (2) their activities; and (3) the resources available to them. This section will demonstrate, using these indicators, that ENGOs have to some extent improved their effectiveness in influencing the processes of climate change negotiations.
In terms of access to negotiations, there has been an increased level of ENGO participation at climate change negotiations. The number of NGO observers at COP meetings has risen from 3,865 representatives at the 1997 COP3 in Kyoto to 13,482 at the 2009 COP15 in Copenhagen (Figure 1). Additionally, the number of NGOs given observer status admissions increased from 287 for the COP3 to 1,297 for the COP15 (Figure 2).
This increase in ENGO participation at COP meetings also correlates with a rise in the number of activities organised in the lead-up to or to coincide with the COP meetings. Literature regarding ENGO activities in the pre-KP period has noted the importance of major networks, such as the Climate Action Network (CAN), and prominent actors, such as Greenpeace, in bringing attention to climate related issues (Michaelowa, 1998; Keulartz, 2005).
Figure 1: COP1 to COP16 meetings – participation breakdown.
Source: UNFCCC (c2011b).
Figure: 2 Cumulative admissions of observer organisations.
Note: NGO – non-governmental organisations; IGO – intergovernmental organisations
Source: UNFCCC (c2011a).
The use of information and communications technology (ICT) has played a particularly significant role in this growth in the number of activities. The internet has allowed ENGOs to organise themselves in various social settings and to mobilise power at different levels of governance across the globe via emails, online petitions or social networking websites, thereby enhancing multi-stakeholder participation and their global outreach (Arts, 2004). Such 'transnational connectivity' is central to gathering information on activities taking place in other countries, and learning lessons for formulating policy options (Fisher and Green, 2004:75). As a result, there has been a burgeoning of various climate networks, rather than there being just the one predominant network (i.e., CAN) as in the pre-KP period. In the pre-2012 period, one of the best examples of the use of ICT by such networks would be the activities of 350.org, which used the concept of online campaigning to highlight the significance of reducing carbon emissions to below 350 parts per million (ppm) via simultaneous visual demonstrations of the number '350' worldwide. ICT provides an important avenue for the dissemination of media information on climate issues, facilitating, for instance, the dissemination of expert analyses on the link between climate change and natural disasters, food crop failures, rising sea levels, etc. Such media coverage serves to shape public opinion on climate change and rally public support (Carpenter, 2001; Betzold, 2010). Concerned netizens could precipitate the viral spread of information. Hence, thanks to ICT, ENGOs have become increasingly able to provide information and articulate their perspectives to a wide range of audiences.

There has also been increasing collaborations between policymakers and ENGOs during the years spanning the various UNFCCC negotiations. By working towards common goals, agenda setting is ideally more effective (Breitmeier and Rittberger, 2000:138). The progressive inclusion of reducing emissions from deforestation and forest degradation (REDD) in developing countries on the COP agenda is an example of such collaboration. Previously an issue advocated by ENGOs such as Greenpeace, WWF and the World Rainforest Movement to politicise deforestation at the international level, REDD was formally tabled as a possible measure to reduce carbon emissions during the 2007 COP13 in Bali (Arts, 2004:507). This was one of the main climate change mitigation initiatives to receive support, through the establishment of the UN-REDD programme which oversees pilot REDD projects funded by various states. The programme received further recognition and support during the UN-led 'Seal the Deal' campaign in the pre-2012 period. Thus, these collaborative initiatives reflect not only the increased vigour of ENGO activities but also the availability of more intergovernmental resources to support such activities.
ICT has also been significant in increasing the level of transparency of the UNFCCC negotiations. Research-based organisations such as the International Institute for Sustainable Development (IISD) have played a substantial role in the reporting of UNFCCC meetings, the summaries of which have been made readily available online. Other research organisations and advocacy groups have also used ICT as a means of providing timely analyses of the negotiations, and where possible, suggestions for improvement. In this regard, ENGOs are not only stakeholders in governance but also a driving force behind greater international cooperation through the active mobilisation of public support for international agreements (Gemmill and Bamidele-Izu, 2002:2).
The media has also been a prime vehicle for facilitating public accountability, such as exposing perpetrators of actions which lead to climate change or ensuring transparency in the operations of carbon emitters (Newell, 2008:129). Some of the areas where the effectiveness of ENGOs has been noted by and in the media include the 'ability to raise and promote discussion of difficult issues such as equity, lend a voice to possibly forgotten constituencies, and enrich the discussion by providing thoughtful analyses and substantive research, and alternative approaches' (Carpenter, 2001:321). As such, there has been an increase in the visibility of ENGOs and their influence over climate negotiations. However, while there have been improvements over the years, ENGOs still experience various challenges, primarily arising from structural impediments and weaknesses within ENGO networks. The following section will elaborate on these challenges.
Challenges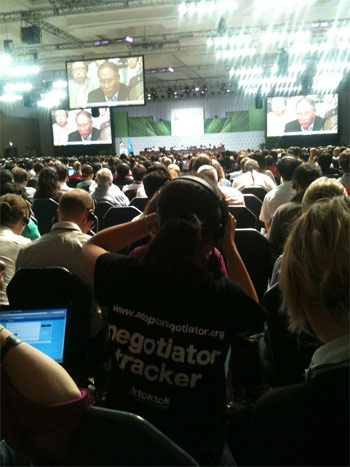 An ENGO representative participating as an observer at the COP16 in Cancún, 2010.
Credit: Adopt a Negotiator/Flickr
Firstly, in terms of participation, while there is an increasing number of ENGOs with observer status at COP meetings, these higher numbers do not only apply to ENGOs (Ghosh, 2009). Rather, the number of state representatives or negotiators has also increased significantly. India, for instance, sent only one representative to each of the climate meetings held in the 1990s. This has changed, with the country sending delegations comprising representatives from various areas of specialisation to recent meetings. This trend reflects an increasing recognition by states of the need to understand and address climate change through a multi-disciplinary lens. Beyond that, there is the realisation that specialists need to become more aware of existing national-level capacities in all areas, not just their own; their participation in a multi-disciplinary, national delegation could be helpful in this regard. With state delegations becoming increasingly more aware of the complexity of climate change issues in relation to their own states' capacities and limitations, ENGOs need to formulate how to better influence states based on what they can do, rather than what ENGOs would like them to do.
The second challenge is that, while ENGOs have seen an increased level of participation in climate negotiations, states, as the most influential and dominant players in international negotiations, ultimately have the last say and control over the extent of ENGO participation in such negotiations (Arts: 2004). ENGO participation remains a privilege granted and mediated by states via three main ways, i.e., through: (1) empowering only a subset of environmental ENGOs; (2) clearly restricting and determining the activities of that subset; and (3) introducing diplomatic innovations such as informal-informals – essentially a highly informal means of dialogue (Raustiala, 1997:734). In practice, these mean that only those ENGOs which have demonstrated that they share a state's goals are given access to climate negotiations. This has limited genuine multi-stakeholder participation in climate negotiations. States also have the upper hand in terms of invitations to dialogues. They determine whether and which ENGOs are invited. One implication of this is that some invitations could be issued merely to show that governments have tried to engage ENGOs in discussions. The dialogues may also be pursued just to prolong the negotiation process, and avoid the issues. States may not consider ENGO participation to be important in meetings where real negotiations take place or decisions are made. Furthermore, in terms of formulating international agreements, while ENGOs are able to advise on and assert what should be included in the documents, states have the final say on what is to be included or excluded.
The third challenge is the varying capacities of ENGOs, which renders some ENGOs more influential than others. The effectiveness of ENGOs is dependent on the resources available to them through their respective intellectual, membership, political and financial bases (Gulbrandsen and Andresen, 2004:57–8). While ENGOs seem to be experiencing an increasing level of support in terms of their intellectual and membership bases, those that make more inroads in influencing climate negotiations tend to have substantial political linkages or influence and financial support. The availability of financial resources was a challenge in the pre-KP period, and continues to be so in the pre-2012 period, with budget size often determining ENGO participation in the negotiation process. Some commentators suggest that financial investments should be made, to support the direct participation of ENGO representatives in policymaking events, or to conduct monitoring activities (Breitmeier and Rittberger, 2000:149). Nevertheless, even without such investments, the advent of ICT – particularly in the pre-2012 period – has enabled ENGOs to maintain consistent visibility on issues that they deem important, at least on the sidelines of climate negotiations. Therefore, while ENGOs continue to have differing capabilities and influence, the advances in ICT during the pre-2012 period have had a somewhat levelling effect.
The fourth challenge relates to the effect of the internal weaknesses of ENGOs on their credibility. Firstly, given the diverse views of groups in the multi-stakeholder arrangements favoured by ENGOs, there is no absolute consensus among ENGOs on specific issues or approaches that should be adopted. In the pre-KP period, for instance, there was a conflict of interest within CAN, with the North and South ENGOs at odds over the environmental impact versus the equity impact of climate change (Pulver, 2005). Similarly, in the pre-2012 period, while ENGOs have called for a 'fair and binding agreement' at the COP15, there has been little elaboration on what is considered 'fair' to all stakeholders. Rather, there has been a tendency to sensationalise the issues when lobbying policymakers. While such a tactic may attract the attention of policymakers, it nevertheless runs the risk of jeopardising ENGO credibility within the epistemic community (Raustiala, 1997:739). The impact of such incidents has, ironically, been exacerbated by the same forces that have assisted ENGO efforts. For instance, media coverage of ENGOs at the COP15 was a double-edged sword. Although noble in their quest to seek a fair and binding treaty from the COP15 negotiations – particularly during the 'Reclaim the Power' protest – ENGOs were portrayed by the media as a disruptive force that stalled conference proceedings (though only a minority was involved). Hence, while ENGOs have increased their participation and visibility at COP meeting venues, it is important for them to be more measured in their approaches and conscious of how their actions may be perceived by external parties.
There is also the challenge of ensuring certainty within the scientific community on the accurate impacts of climate change. This concern has been evident in both the pre-KP and pre-2012 periods. An incident during the latter period was particularly potent – the 'climate-gate' affair just before the COP15 witnessed the selective publication by climate sceptics of hacked emails between climate scientists (Caballero-Anthony et al., 2010). Further media reports of poor scientific quality control by the Intergovernmental Panel on Climate Change (IPCC) over the predictions of the rate of global warming in the Himalayas only added to the furore (Carrington, 2010). These events have allowed states which are critical of climatologists to target ENGOs as lacking credibility in their scientific evidence on climate change, hence undermining negotiations in the pre-2012 period.
Hence while ENGOs have made strides over the years, structural challenges as well as their own internal weaknesses still impede their ability to engage policymakers effectively at the international level. Nevertheless there are ways of improving ENGO modes of influence.
Ways Forward: Improving ENGO Effectiveness
Given the challenges in influencing climate change negotiations at the international level – regardless of the phases in the UNFCCC timeline – it would be beneficial for ENGOs to channel their efforts towards the national or regional level. It is relatively easier to focus upon issues and how they affect communities at the national and local levels than to maintain focus on challenges in the global sphere. For instance, research-based ENGOs could achieve much through improving scientific analyses of the local/regional effects of climate change, which have not been as refined upon as the research on global effects. Similarly, advocacy-type ENGOs should translate such scientific analyses into policy options and response measures for dissemination to national governments, while keeping in mind the existing capacities of the state. Sufficient knowledge on the impacts of climate change and relevant policy options at the national level is crucial for policymakers at international climate negotiations (Carpenter, 2001:327). These national policies would help national negotiating teams solidify their policy positions and objectives at the international level.
ENGOs should also improve the quality of their campaigns by equipping the public to take actions at the individual and community levels. They should be more assertive in creating pathways for genuine participation rather than just being critical of the perceived lack of action by government in addressing climate change (Betsill, 2008:192). They also need to demonstrate professionalism so that governments see them as an asset and are keen to facilitate their participation.
However, while the above would be the ideal, it remains uncertain whether the lack of democratic mechanisms at the domestic level would constrain ENGOs from thriving. One of the challenges at the national level as noted by Fisher and Green (2004:74) is political instability and a lack of freedom of expression. Political instability forces the government to prioritise domestic issues that may not be aligned with global or transboundary issues such as climate change. As such, it is necessary to engage national and local leaders 'in their own language'. In non-democratic countries particularly, there is a need to maximise and persevere in engaging via traditional forms of governance, such as forging alliances with political actors. Alternatively, the linking up of ENGOs from the South with governments from the North could perhaps serve as a conduit for bypassing corrupt/undemocratic regimes and influencing dynamics at the domestic level (Betsill, 2008:202).
In addition to advancing ENGO efforts at the national level, it is equally important to build regional capacity and foster regional cooperation. This is because it would be relatively easier to come to a consensus on issues at the regional, rather than the international, level, as the number of players and interests involved is smaller. Moreover, regional pressure may work better than international pressure, thereby providing the impetus to regional institutions to improve their level of cooperation on climate change. Carpenter (2001:327) argues that 'the issue of climate change may be too complex for a traditional approach' in which high expectations are set for multilateral agreements on 'myriad politically and technically difficult issues'. Therefore, regional arrangements can be the option to create a rather smaller, but more genuine, basis for negotiation.
In conclusion, ENGOs have progressively developed in a positive direction and they have the potential to grow further, particularly if they are able to overcome their structural challenges and internal weaknesses. Influencing climate negotiations is without a doubt a long and tedious process, during which ENGOs must ensure that they continue to be flexible in their engagement with governments and other stakeholders, and more importantly, remain aware of the nuances within the ENGO community. They would also need to demonstrate patience and perseverance alongside their passion for the environment.
References
Arts, Bas, 2004, 'The Global-Local Nexus: NGOs and the Articulation of Scale', Tijdschrift voor Economische en Sociale Geografie, Vol. 95, No. 5, pp. 498–510. http://onlinelibrary.wiley.com/doi/10.1111/j.0040-747X.2004.00335.x/abstract;jsessionid=1F274D7A33E419DEA6BE50753CC6F8BD.d01t04
Betsill, Michele M. and Elisabeth Corell, 2001, 'NGO Influence in International Environmental Negotiations: A Framework for Analysis', Global Environmental Politics, Vol. 1, No. 4, pp. 65–85. http://dx.doi.org/10.1162/152638001317146372
Betzold, Carola, 2010, '"Borrowing" Power to Influence International Negotiations: AOSIS in the Climate Change Regime, 1990–1997', Politics, Vol. 30, No. 3, pp. 131–48. http://dx.doi.org/10.1111/j.1467-9256.2010.01377.x
Caballero-Anthony, Mely, Irene A. Kuntjoro and Sofiah Jamil, 2010, 'Civil Society Actions and Reactions to COP15', NTS Alert, January (Issue 2), Singapore: RSIS Centre for Non-Traditional Security (NTS) Studies. http://www3.ntu.edu.sg/rsis/nts/HTML-Newsletter/alert/NTS-alert-jan-1002.html
Carpenter, Chad, 2001, 'Businesses, Green Groups and the Media: The Role of Non-governmental Organizations in the Climate Change Debate', International Affairs, Vol. 77, No. 2, pp. 313–28. http://dx.doi.org/10.1111/1468-2346.00194
Carrington, Damian, 2010, 'IPCC Officials Admit Mistake over Melting Himalayan Glaciers', Guardian, 20 January. http://www.guardian.co.uk/environment/2010/jan/20/ipcc-himalayan-glaciers-mistake
Corell, Elisabeth and Michele M. Betsill, 2001, 'A Comparative Look at NGO Influence in International Environmental Negotiations: Desertification and Climate Change', Global Environmental Politics, Vol. 1, No. 4, pp. 86–107. http://dx.doi.org/10.1162/152638001317146381
Falkner, Robert, 2003, 'Private Environmental Governance and International Relations: Exploring the Links', Global Environmental Politics, Vol. 3, No. 2, pp. 72–87. http://dx.doi.org/10.1162/152638003322068227
Fisher, Dana R. and Jessica F. Green, 2004, 'Understanding Disenfranchisement: Civil Society and Developing Countries' Influence and Participation in Global Governance for Sustainable Development', Global Environmental Politics, Vol. 4, No. 3, pp. 65–84. http://dx.doi.org/10.1162/1526380041748047
Gemmill, Barbara and Abimbola Bamidele-Izu, 2002, 'The Role of NGOs and Civil Society in Global Environmental Governance', in Esty, Daniel C. and Maria H. Ivanova (eds), Global Environmental Governance: Options and Opportunities. Princeton, NJ: Yale School of Forestry and Environmental Studies. http://environment.research.yale.edu/documents/downloads/a-g/gemmill.pdf
Ghosh, Padmaparna, 2009, 'The Road to Copenhagen Passes through Kyoto', livemint.com, 2 December. http://www.livemint.com/2009/12/02215219/The-road-to-Copenhagen-passes.html
Gough, Clair and Simon Shackley, 2001, 'The Respectable Politics of Climate Change: The Epistemic Communities and NGOs', International Affairs, Vol. 77, No. 2, pp. 329–46. http://dx.doi.org/10.1111/1468-2346.00195
Gulbrandsen, Lars H. and Steinar Andresen, 2004, 'NGO Influence in the Implementation of the Kyoto Protocol: Compliance, Flexibility Mechanisms, and Sinks', Global Environmental Politics, Vol. 4, No. 4, pp. 54–75. http://dx.doi.org/10.1162/glep.2004.4.4.54
Haas, Peter M., 1992, 'Introduction: Epistemic Communities and International Policy Coordination', International Organization, Vol. 46, No. 1, pp. 1–35. http://dx.doi.org/10.1017/S0020818300001442
Keulartz, Jozef, 2005, 'Kyoto and the Ethics of Flexibility', in Vermeersch, Etienne (ed.), Reading the Kyoto Protocol, Delft: Eburon. http://wu.academia.edu/jozefkeulartz/Papers/179609/Kyoto_and_the_Ethics_of_Flexibility
Lemos, Maria Carmen and Arun Agrawal, 2006, 'Environmental Governance', Annual Review of Environment and Resources, Vol. 31, pp. 297–325. http://dx.doi.org/10.1146/annurev.energy.31.042605.135621
Michaelowa, Axel, 1998, 'Climate Policy and Interest Groups – A Public Choice Analysis', Intereconomics, Vol. 33, No. 6, pp. 251–9. http://dx.doi.org/10.1007/BF02929886
Newell, Peter, 2008, 'Civil Society, Corporate Accountability and the Politics of Climate Change', Global Environmental Politics, Vol. 8, No. 3, pp. 122–53. http://dx.doi.org/10.1162/glep.2008.8.3.122
Pulver, Simone, 2005, 'A Public Sphere in International Environmental Politics: The Case of the Kyoto Protocol Negotiations', Paper presented at a conference on Human Dimensions of Global Environmental Change: International Organizations and Global Environmental Governance, Berlin, 2–3 December. http://userpage.fu-berlin.de/ffu/akumwelt/bc2005/papers/pulver_bc2005.pdf
Raustiala, Kal, 1997, 'States, NGOs, and International Environmental Institutions', International Studies Quarterly, Vol. 41, No. 4, pp. 719–40. http://dx.doi.org/10.1111/1468-2478.00064
United Nations Framework Convention on Climate Change (UNFCCC), c2011a, 'Cumulative Admissions of Observer Organizations'. http://unfccc.int/files/parties_and_observers/ngo/application/pdf/cumulative_admissions_of_observer_organizations_cop_1-16.pdf
United Nations Framework Convention on Climate Change (UNFCCC), c2011b, 'Participation Breakdown'. http://unfccc.int/files/parties_and_observers/ngo/application/pdf/participation_breakdown_cop_1-16.pdf