Christopher S.G. Khoo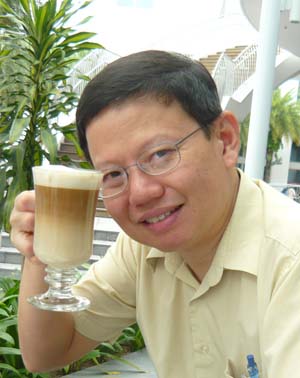 Ph.D. (Syracuse)
M.Sc (Illinois, Urbana-Champaign)
B.A. (Harvard)
Assoc Prof,
Division of Information Studies,
Wee Kim Wee School of Communication & Information,
Nanyang Technological University

31 Nanyang Link
Singapore 637718
Tel. (65) 6790 4602
Fax. (65) 6790 7526
Email: chriskhoo@pmail.ntu.edu.sg
Christopher Khoo is an associate professor and former head of the Division of Information Studies at Nanyang Technological University, Singapore. He teaches courses in knowledge organization, information behavior, data mining and Web-based information systems. He obtained his PhD at Syracuse University and his MSc in Library & Information Science at the University of Illinois, Urbana-Champaign. He has also worked for several years as a science reference librarian, cataloger and online information searcher at the National University of Singapore Libraries. His main research interests are in text mining (information extraction, text summarization and sentiment analysis), medical decision support systems, knowledge organization, and information behavior.
His PhD thesis was on "Automatic Identification of Causal Relations in Text and Their Use for Improving Precision in Information Retrieval." He was the editor of the Singapore Journal of Library & Information Management, from 1997 to 2002, and the current editor of LIBRES ejournal.
Hobbies: Chris plays the violin and piano, listens to classical music, and is an avid reader of science fiction and fantasy.