2005 International Conference on CYBERWORLDS
---
Venue
The conference will be held at the Nanyang Executive Centre. The centre is located in a quiet corner of the NTU campus, tucked away discreetly yet easily accessible by private or public transport. The room rates are here.
The guest wing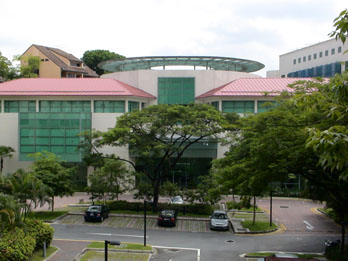 The educational wing
The University swimming pool is just opposite the hotel. Do not forget you swimming suite
Contact Ms. Michele Tan-Khoo at cyberworlds@ntu.edu.sg for the accommodation reservation.
By taxi: This is the most convenient way of getting to NTU from Changi Airport. Tell the taxi driver to go to NTU by ECP, then by PIE, and finally exit to Pioneer Rd. Prepare your photo camera--this way will show you a great "signature" view at Singapore central business district. The ride will cost you from S$25 to S$30 depending on time of traveling, and it will take 40 min (smooth traffic). Alternatively, at the Changi Airport taxi stand you can take a TIBS Limo, which will cost you S$30 flat to any part of Singapore. This cab has a bigger capacity and it is somewhat more comfortable then a regular cab. When you enter NTU campus, ask the driver to follow the CW2005 or NEC direction signs.
By Mass Rapid Transit Train and Bus:
Take the Mass Rapid Transit (MRT) train from Changi Airport and alight at the the Boon Lay station. This is the last stop along the East-West line. This trip will cost you S$1.90 and it will take 1 h 10 min. Then take bus no. 179 or 199 at the Boon Lay bus interchange that is just next to the MRT station. Thereafter, alight at B03 "Hall 2" (2729A) if you take bus 179 or B09 "Hall 8" (2720Z) if you take bus 199. The bus trip will take S$1.10 and it will take about 20 min. After alighting, follow the CW2005 direction signs. Refer to operation time of the buses. It may be a problem to get a taxi from Boon Lay station after 24:00 hrs.
Singapore
Singapore has everything to make your stay a most memorable experience. Situated at one of the most important crossroads of the world, Singapore is a vibrant and cosmopolitan city where tradition and modernity, East and West, meet and mingle most agreeably and harmoniously. As Asia's convention and exhibition capital, Singapore offers superb facilities and excellent support in every aspect of event planning and co-ordination. The various luxury hotels, offering impeccable standards of Asian service and hospitality, and modern shopping malls dotting this tropical island are well-connected by the efficient Mass Rapid Transit network, and Singapore's bustling port, world-renowned Changi Airport, and thriving business, are all testimonies to Singapore's standing as one of the leading financial, economic and trading centres in the region. When it comes to fun, Singapore is your tropical playground, where there is so much to discover and experience. To whet your appetite there is a wide choice of cuisine from all over the world found right here in this gourmet paradise. Besides this, a wide choice of leisure experiences awaits you, from spa treatments to pub-hopping, sightseeing, non-stop shopping and attraction galore. And for your entertainment pleasure, there is an array of cultural and modern dance, theatre concerts and world-class musicals found in this City for the Arts. This trendy city keeps you entertained non-stop, where the world comes together for pure enjoyment. Singapore is also the number one family vacation destination, especially since Singapore is known to be one of the safest cities in the world.
The climate is warm and welcoming all year round with temperatures ranging between 30 C in the day and 23 C in the night. English is a widely spoken and the common business language of all.
Further information on Singapore can be found here.
Singapore incentive isle video (requires
RealPlayer):
Attractions in Singapore:
Currency Exchange
Major credit cards are accepted at Nanyang Executive Centre. Exchange booths can be found downtown in shopping centres, which are are open at 10am-11am and close at 10pm.
You can also exchange (only USD) at the Mayflower Restaurant which is just opposite Nanyang Executive Centre.